CO MONITOR AND BREATHER BOX
The Breather box is a filtration system designed to provide breathing air for a specific number of workers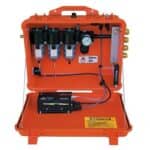 The Breather box is a Portable Grade – D filtration system designed to provide breathing air for a specific number of workers. The system filters air from a compressor to provide respirator users with Grade – D quality air and monitors for CO and/or Oxygen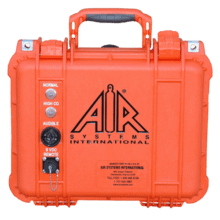 This unit is designed to monitor breathing air for Carbon Monoxide contamination from a compressed air source. The audible alarm (90dBA) and light will activate when the CO levels exceeds 10ppm. External alarm and lights allow for the unit to be used in closed position and eliminates damage and contamination of the internal components. 
The RPB GX4 is an intelligent gas Montior that has the ability to detect up to 4 gases simultaneously, giving you assurance that the air you and your employees are breathing is safe
The twin air compressor system  is designed to provide grade – D breathing air to 3 workers wearing pressure demand respirators. The TA-3 has twin ASME receiver tanks that act as the mounting frame for the compressor. The use of the receiver tanks provides air that has been cooled to within 10 degrees of the ambient temperature. 
This unit has been designed to meet the demanding needs of the sandblast and coatings industry. The Blast-Air 50 pictured is our standard 4 worker Breather Box mounted on a BA-1 CAA Pre-filter cart.