Glass Grit abrasive is a high-performance material used in the manufacturing industry for various applications. It contains small pieces of glass, which are then crushed and blended with other materials to create an abrasive substance. Glass Grit can be used as a media blasting agent to remove rust or paint from metal surfaces, creating a smooth finish. It can also be used as an additive in cleaning agents for industrial and commercial use, as it has excellent cleaning properties due to its hardness and non-toxic nature. It is also commonly used for grinding down tough metallic surfaces such as stainless steel, aluminum and cast iron.
When choosing abrasive for your application, it is important that you select the right grit size, as it comes in a variety of sizes ranging from very coarse to very fine. Coarse Glass Grit is better suited for tough objects such as cast iron or aluminum, while finer Glass Grit can be used for more delicate materials like stainless steel. For most applications, a medium grade Glass Grit works well for achieving the desired finish.
Before beginning any Glass Grit abrasive application, it is important to know the type of surface that you are working on and what kind of results you want to achieve. It's also important to wear protective gear such as gloves and safety glasses when handling abrasives, as they can cause irritation if inhaled or come into contact with skin or eyes.
100% Recycled Glass
Inert Material
Less than 1% Free Silica 
No Heavy Metals
White Metal Finish a perfect substitute for Garnet
Made in Saudi Arabia
Low Dusting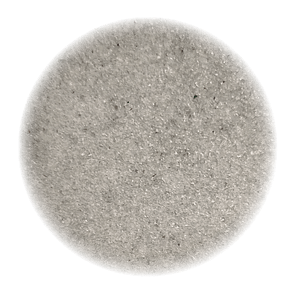 | | |
| --- | --- |
| Grit | Extra Fine |
| Size | <0.3 mm |
| Application | Use to clean surfaces to create a smooth finish. Alternate for sodium bicarbonate blasting. good for stainless steel |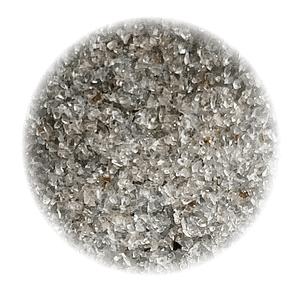 | | |
| --- | --- |
| Grit | Fine |
| Size | 0.3 – 0.425 mm |
| Application | Use on new steel, for industrial applications, steel bridges, tanks, steel construction & fabrication etc. |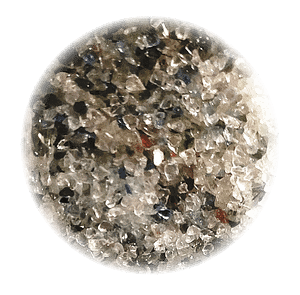 | | |
| --- | --- |
| Grit | Medium |
| Size | 0.425 – 0.7 mm |
| Application | It is used for general blast cleaning on structural steel work, pipes, tanks for achieving a moderate profile. |