Used to ventilate explosive and hazardous vapors or fumes safely
Can be used as blower or exhauster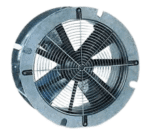 Used for general ventilation in any location where compressed air is available. These fans are suited for ventilation of tanks, vessels or other confined areas for the removal of hazardous fumes or contaminated air from welding, abrasive blasting and other operations.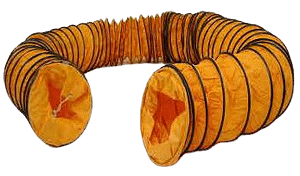 A large selection of flexible air duct for a variety of ventilation applications is available. Blastline ducting is extremely flexible, lightweight and crush resistant. It is made of heavy duty polyester reinforced vinyl laminate hose which is reinforced with a spring steel wire on a 4″ pitch and is easily attachable to any fans and dust collectors
20″ & 24″ Diameter
10400 – 1600 cfm free air @ 40 – 110 psi input pressure and 60 – 290 cfm flow
Cast Aluminum housing and fan blade.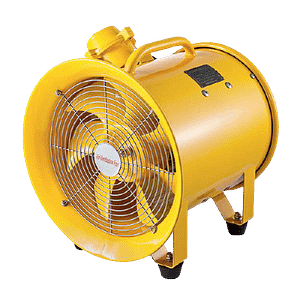 The explosion proof industrial fan applied in the condition of explosion-proof gas compound with factory II type, Grade A, B and the temperature T1-T4. The Impeller made of aluminum alloy, has strong points such as operate steadily, aesthetics, rational structure, etc. Available  in sizes : 12″, 16″, 18″, 20″, 24″, 28″ & 32.
Spraybooth emissions produce a harsh environment which can cause the premature failure of conventional fans. To combat this, we provide patented airflow cartridge fan specifically designed for spraybooth ventilation. An integral casing provides a sealed protection of the drive mechanism and bearings against in-duct contamination. Manufactured in house to ISO 9001 standards, performance tested, and CE marked before dispatch, the airflow cartridge fan is by default fitted in all blastline spray booths. The cartridge configuration enables the drive mechanism to be removed for routine maintenance without disrupting the fan housing or ventilation ducting.
3 phase, 415v, 50hz, non-flameproof motor
Capacity varies from 1.5Kw, 3Kw, 4Kw, 5.5Kw & 6Kw.