Airline filters can be used in conjunction with other compressor safeguards tp supply cleaner air to supplied air respirators. Air filters reduce pollutants in respirator air supplied to workers. These filters remove mists , water vapors and particulates from air supplied by compressor.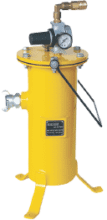 Air enters the filter through the inlet port. Moisture is removed by expansion in the filters outer chamber and passes out through a drain cock at the bottom of the unit.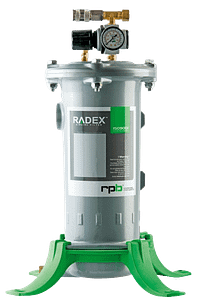 The RPB Radex is a robust and versatile airline filtration system, providing clean, filtered and breathable air 
The Large capacity 6 stage filter cartridge removes misture and particulates 0 to 0.5 micron and odour from the compressed air stream, providing you with clean breathable air. Cartridges have to be replaced every three months when used for 40 hours per week. 
Cools incoming air from compressed breathing air sources by as much as 17°C. It helps to maintain workers comfort and maximize productivity while working in extremely hot and humid environments.