PAINTING EQUIPMENTS & SUNDRIES
A perfect set of components to complete your entire painting setup, provide maximum support, enhance your design & bring out higher quality results.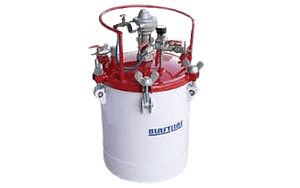 Pressure pots available 10 Ltr, 20 Ltr & 40 Ltr capacity with manual agitator and air agitator. Pressure pot outfit includes pressure tank, spray gun 25ft air and fluid hose assemblies.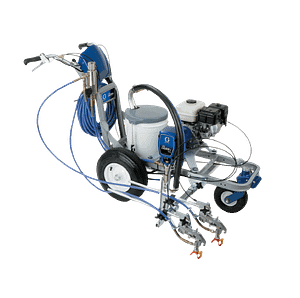 Both the Linelazer 3900 and 5900 have been redesigned with all the new technologies of Linelazer IV to deliver precise and consistent lines. Ideal for packing lots and for street marking. These are versatile line stripers. Their performance meets the requirements of municipalities and small cities. Lines stripers are not used solely for line marking. Being airless machines, they also do stenciling and general painting.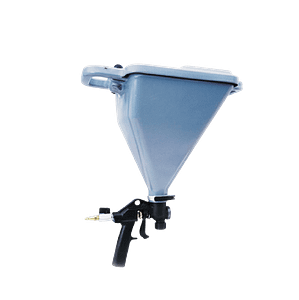 Double handle design provides maximum support and control for ceiling, wall and floor applications. Sprays acoustics, drywall mud, water proofing material, Pool deck sealant, stucco and most gravity- fed materials.
Standard industrial spray gun available in fluid set up sizes. 1 mm, 1.5 mm, 1.6 mm, 1.8 mm and 2.2 mm.
Designed for fast and easy sanding of various surfaces. Can be torn to exact lengths as needed. Grit size: # 40, 60, 80 & 100. Width 10" and length 50 m/roll.
Capacity of Cup (L) 2.0 Type Pressure Optional Nozzle Size : 1.5mm, 1.8mm Excellent for large area as buses, truck and vans. Allows users to mix and paint 2 quarts at a time.
Mini Roller for painting in narrow spaces. 100 mm wide roller with threaded handle.
Ideal for interior/exterior and specialty applications. Spray materials: Oil based, Primers, Stains, Varnishes, Latex Paints, Acrylics, Enamels, Urethanes etc..
The Pole Gun provides better spray control & less fatigue for unmatched spraying performance in high or recessed areas. Available lengths: 3′ (.9m),  6′ (1.8m).
The Tip extension is used to create different length pole guns. The small diameter tube is light-weight and can be used for interior pressure rolling. Available lengths: 10in (25cm), 15in (38cm), 20in (50cm), 30in(75cm).
No spitting with unique needle valve shuts fluid off at the tip for a clean pattern. 180° tip swivel with pressure actuation.
Sprays at a variety of angles by attaching to any Graco Extensions. Max Working Pressure: 248 Bar
Provides a straight connection to extensions. In-handle paint filter and built-in swivel connection. Ability to rotate 180 allows any spraying in any position.
Solvent resistant standard hose with male pipe threads both ends and quick knock off female thread for extreme hose. Specially sized to match pump flow rates.
Solvent resistant standard hose with male pipe threads both ends and quick knock off female thread for extreme hose. Specially sized to match pump flow rates.
Static Mixers allow for the mixing of two or more fluid, and also enhance mass transfer in continuous operations. This rugged and reliable mixer is made of all stainless steel body.
Specially woven for straining quick, efficient & easy to use. Stops nozzle clogging, solvent resistant & re-useable.
The Displacement rod connects the pumps internal components to the drive system. The rod moves up and down with the action of the drive system & motor. Fluid is loaded on the upstroke & displaced on both the upstroke & downstroke.