PAINTING EQUIPMENTS & SUNDRIES
A perfect set of components to complete your entire painting setup, provide maximum support, enhance your design & bring out higher quality results.
Pressure pots available 10 Ltr, 20 Ltr & 40 Ltr capacity with manual agitator and air agitator. Pressure pot outfit includes pressure tank, spray gun 25ft air and fluid hose assemblies.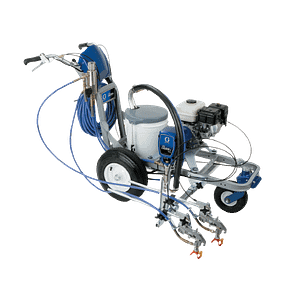 Both the Linelazer 3900 and 5900 have been redesigned with all the new technologies of Linelazer IV to deliver precise and consistent lines.  Ideal for packing lots and for street marking.  These are versatile line stripers. Their performance meets the requirements of municipalities and small cities. Lines stripers are not used solely for line marking.  Being airless machines, they also do stenciling and general painting.
Double handle design provides maximum support and control for ceiling, wall and floor applications. Sprays acoustics, drywall mud, water proofing material, Pool deck sealant, stucco and most gravity- fed materials.
Standard industrial spray gun available in fluid set up sizes. 1 mm, 1.5 mm, 1.6 mm, 1.8 mm and 2.2 mm.
Designed for fast and easy sanding of various surfaces. Can be torn to exact lengths as needed. Grit size: # 40, 60, 80 & 100. Width 10" and length 50 m/roll.
Capacity of Cup (L) 2.0 Type Pressure Optional Nozzle Size : 1.5mm, 1.8mm Excellent for large area as buses, truck and vans. Allows users to mix and paint 2 quarts at a time.
Mini Roller for painting in narrow spaces. 100 mm wide roller with threaded handle.
Ideal for interior/exterior and specialty applications. Spray materials: Oil based, Primers, Stains, Varnishes, Latex Paints, Acrylics, Enamels, Urethanes etc..