We offers a wide range of portable blasting machines that are designed to cope with all type of outdoor blasting environments, which requires maneuverability, or fixed variants for working in a blast room type of environment. Tried and tested throughout the world the blastline range of blast machines combines rugged efficient operation with maximum site safety. Hydrotested twice to the working pressure, it comes with a test certificate, MDR (Manufacturer's Data Report) and a comprehensive operations manual. A choice of automatic or manually operated machines are available fitted either with a grit valve or flat sand valve.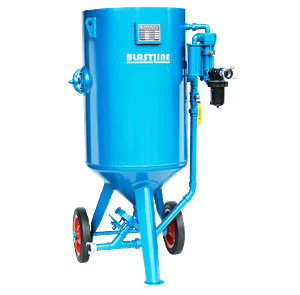 | | |
| --- | --- |
| Model Capacity | 300 Ltrs |
| Height | 1575mm |
| Diameter | 610mm |
| Description | Ideal for continuous production, maximum output, minimum downtime between abrasive refilling. Blast time of approx. 60-75 minutes. |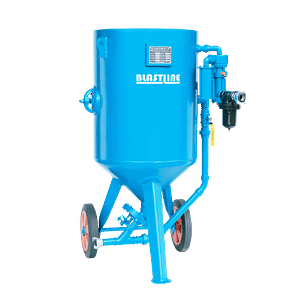 Model Capacity
200 Ltrs
Height
1346mm
Diameter
610mm
Description
Ideal for the professional contractor for shipyards, oil
refineries, gas and heavy fabrication industries. Blast time of approx. 45-50 minutes.
| | |
| --- | --- |
| Model Capacity | 50 Ltrs |
| Height | 1061mm |
| Diameter | 357mm |
| Description | Ideal for small to medium contractors where mobility |
| | |
| --- | --- |
| Model Capacity | 30 Ltrs |
| Height | 1143mm |
| Diameter | 276mm |
| Description | Ideal for smallers jobs where easy portability is required. Blast time of approx. 15-20 minutes. |
| | |
| --- | --- |
| Model Capacity | 20 Ltrs |
| Height | 711mm |
| Diameter | 254mm |
| Description | Ideal for remedial work, glass etching and general maintenance where easy mobility is required. Blast time of approx. 10-15 minutes. |